KidRockCruise.com has been updated with a fresh new design in support of the 3rd annual, 2012 "Chillin' The Most" Cruise!
Join Sixthman and Kid Rock as they host next year's mega event from April 26-30, sailing on Carnival Destiny from Miami, FL to 'Half Moon Cay' renamed exclusively as 'Rock's Reef' for the cruise!
For more info, visit the official website of KidRockCruise.com. Be sure to also become a fan on Facebook and follow the 'Kid Rock Cruise' on Twitter!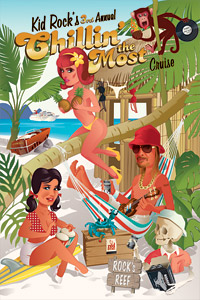 Photo Credit: Sixthman / KidRockCruise.com