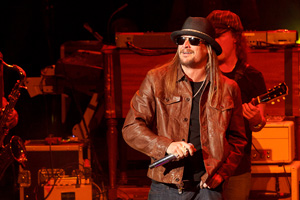 Photo Credit: Kevin Pyle / TulsaToday.com.
Hard Rock Hotel & Casino's The Joint played host to Kid Rock, Thursday night and the sold-out audience was not disappointed.
Robert James "Bob" Ritchie or Kid Rock as he has became known burst upon the scene back in the early 1990's thanks to MTV's Spring Break coverage and has not slowed down. Back then it was much more a hip-hop/rock infused sound that was all the rage. Since then Kid has found a way to keep himself current and not die away as other musical trends have throughout his 20 plus years in the industry.
His music, which now crosses genre styles, doesn't leave anyone out or untouched. From rap to hip-hop, rock to country and even the occasional ballad he has an appeal to young and old. You could see 20-somethings milling around the spectacular venue, as well as, a few blue-haired beauties all there to get a glimpse and give listen to the current outlaw heir.
Starting the show out with "Devil without a Cause" and allowing for lyric's via recorded audio from his late friend and partner Joe C, accompanied by an over-sized banner featuring the pint sized rapper, this lead to added effect and sent the already party atmosphere to a higher level.
Read the full review and view a slideshow of great photos of Kid Rock and TBT at TulsaToday.com.